Tiding
Saturday 2nd April 2022
Tiding, meaning a communication, or an announcement, or to drift with, or as if with, the force of the waves.
Tiding
was a day of performance art taking place at two historic places of worship in Folkestone and Romney Marsh.
Tiding
was a celebration of the spring, the return of life after the retreats of winter and lockdown.
Tiding
also marked the last public programming ]performance s p a c e[ organised in Folkestone.
]ps[ has made a home for performance art and artists on Tontine Street since 2016. We have organised festivals, hosted residencies, curated exhibitions, and worked in collaboration with our peers and communities. Across this time, we have remained in dialogue with the remarkable landscape of the Kent coast, and so it is fitting that
Tiding
occured at both the Parish Church of St Mary and St Eanswythe in Folkestone, and St Augustine's at Snave, a remote church in Romney Marsh.
People have met to worship at St Mary and St Eanswythe since the 7th Century, and at Snave since the 13th Century. In inviting James, Kelvin, Léann, Lynn, Monstera, and Sandra to make works in dialgoue with these two old churches, we spoke about religion, and the histories of violence, exclusion and loss which these sites call in. At the same time, as we prepared the churches - negotiating space, sourcing materials, collecting dust - we thought about the spiritual funcitons of performance art - as a place for gathering, meditation, celebration and reflection.
Thank you for joining us at
Tiding
.
TIDING, 2022. Videography and editing by Marco Beradi and Baiba Sprance.
Credits
Tiding
is curated by Benjamin Sebastian and Joseph Morgan Schofield, and produced by ]performance s p a c e[. The project is supported by Ash McNaughton and Marcin Gawin.
The project is funded by ]performance s p a c e[, Kent County Council, Creative Folkestone and Roger De Haan Charitable Trust, and Kent Wildlife Trust.
Contact:
joseph@performancespace.org
Sandra Johnston. Photos by Tristan Broers.
Day time session in Romney Marsh

St Augustine at Snave
The day began with a vegan picnic at St Augustine in Snave, a 13th Century Church in Romney Marsh, where artists Sandra Johnston, Lynn Lu and James Jordan Johnson presented performances across the afternoon.


"We Must return to the point from which we started. Diversion is not a useful plot unless it is nourishedby reversion: not a return to the longing for origins, to some immutable state of Being, but a return to thepoint of entanglement" – Glissant

Likkle More: A Walk, A Plot(ting), A Land is a multi-site-specific performance. The work is a way to think about how a (raw) material and subject becomes an art object, what process must take place so that it becomes something it was not previously? How does a desire for singularity and removing a "point of entanglement" become a necessity for the knowledge system and culture that pertains to the art object?

The work, which uses the method of walking, video, public intervention and participation begins withinLondon pertaining to three distinct areas; Stratford, Lewisham & Deptford. The route breaks away from London, a departure followed by a destination of St Augustine's Church at Snave, Romney Marsh.
James Jordan Johnson
(b.1997, London) is an artist working in site-specific performance and sculpture. He is interested in thinking about illegible knowledge systems surrounding material and geological Black histories by using methods of mundanity, slowness, walking, site interventions, and found as well as chosen objects.
︎︎︎ www.jamesjordanjohnson.com
I chew.

Thinking of coconut husks
thinking on
these husks
Remnants
And those who were left behind

I chew.
and still I
, Madinah Farhannah Thompson writing on
Likkle More
︎︎︎ read the full text
The Impossibility of Return
, Lynn Lu. Photo by Manuel Vason.
"The past 2 years have left us collectively shattered. We don't stay broken, however, and as we put ourselves back together, this work proposes that we wear each of our distinct scars as a mark of beauty in the face of a chaotic universe."

You are invited to bring Lynn a cherished object that has been broken, and to engage in an intimate exchange. Your broken object – ideally ceramic or porcelain – might be in pieces, or simply chipped or cracked. Lynn's offering during Tiding will be a one-to-one exchange invol ving these items.

Over the next months, Lynn will resurrect these items using kintsugi*. Stanford research scientist Amy Price has described the practice of kintsugi as "radical empathy in action" (2021), representing resilience and the regaining of function with new splendour. Each restored object will be photographed then returned to their owners.

* Kintsugi is the Japanese art of repairing broken pottery by mending the breakage with lacquer dusted with precious metals.
Lynn Lu
(PhD, AFHEA) is a visual artist from Singapore, trained in the US, France, Japan, and Australia.
Her research-led multidisciplinary practice emerges from her interests in context and site specificity, participation and collaboration, and the poetics of absurdity. Engaging vigorously with the present reality of all that is here-and-now, the meaning of her works often manifests in the resonant relationships created between herself and her audience, and between the audience themselves.
Lynn exhibits and performs extensively worldwide. Selected venues include National Gallery Singapore (2022), SFMOMA (2021), Staatlichen Kunstsammlungen Dresden (2019), Framer Framed (2018), Science Gallery London (2017), Saatchi Gallery (2017), Palais de Tokyo (2015), The Barbican (2015), Perth Institute of Contemporary Arts (2013), Tate Modern (2010), Beijing 798 Art Zone (2009), and Singapore Art Museum (2007).
Lynn lives and works between Singapore and London. She is a Visiting Artist at London College of Communication, University of the Arts London, Associate Lecturer at Nanyang Academy of Fine Arts, and Associate Artist at ]performance s p a c e [.
︎︎︎ www.lynnlu.info
Sandra Johnston. Photos by Manuel Vason.
Sandra Johnston has been active internationally as an artist since 1992 in the field of site-responsive enquiry into 'contested spaces' working predominantly through performance art and video/audio installations. Johnston has held several teaching and research posts since 2002, including an AHRC Research Fellowship at the University of Ulster, Belfast, investigating issues of 'trauma of place'. In 2007 she was the Ré Soupault Guest Professor at the Bauhaus University, Weimar. Between 2012-2021 she was joint-lead on the BxNU MFA programme at Northumbria University, England. Currently, she lectures at Ulster University in the Photography & Video Department. In 2013, Johnston published her Ph.D. research project entitled 'Beyond Reasonable Doubt: An Investigation of Doubt, Risk and Testimony through Performance Art Processes in Relation to Systems of Legal Justice'. Additionally, she has been committed long-term to exploring collaborative processes of improvisation, facilitating workshop encounters, alongside engaging with the development and sustainability of creative networks.
Witnessing Johnston's careful mastery of pace, decision-making and silent resistance makes me think of her embodied gestures as intimate knowledge she shares with the space, and the objects she is interacting with. A new constellation of relations and alliances emerges, reminding me of possibilities of porous solidarity through gesture, action and space. Watching her gestures becomes an exercise in trying to decipher the new constellations of relations in the room. Like trying to work out a mathematical equation that is closer to an exercise of the imagination, rather than a sum.
Horizonless Hopes
, Sara Sassanelli writing on works by Sandra Johnston and Monstera Deliciosa
︎︎︎ read the full text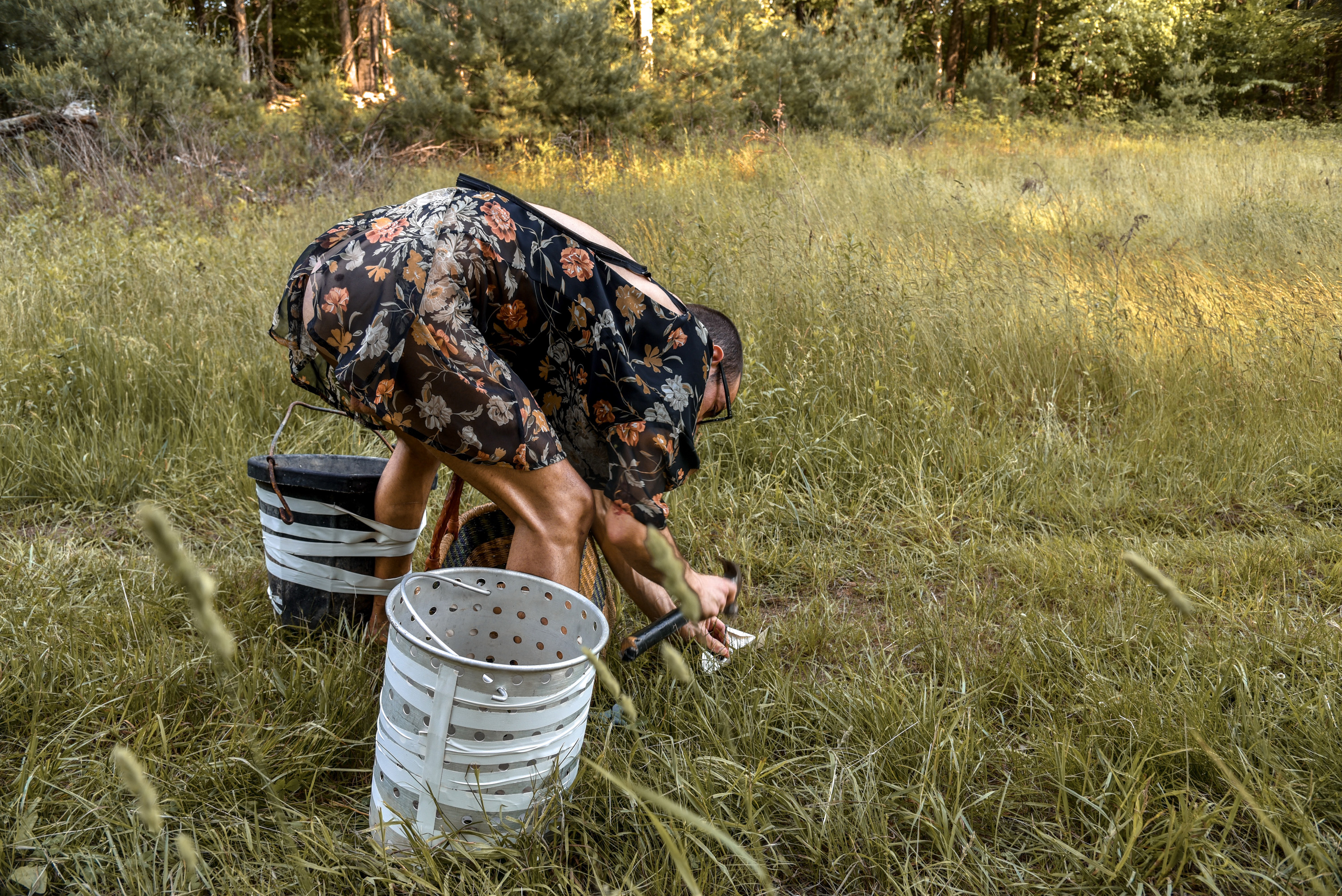 Monstera Deliciosa. Photograph by Jana Astanov.
Kelvin Atmadibrata,
Deepthroat
, 2017, Kolkata Performance Festival, Kolkata, IN. Photo by Fajar Kunting
Evening Session in Folkestone

The Church of St Mary & St Eanswythe
Tiding continued into the evening in Folkestone at the Church of St Mary & St Eanswythe, a site of worship since the 7th century, with more vegan food and a further three performances by Monstera Deliciosa, Léann Herlihy and Kelvin Atmadibrata.


Kelvin Atmadibrata. Photos by Manuel Vason
A Knight No More
is a site-responsive work involving a body performing a (silence-d) gesture of grass whistling. He seemingly answers a series of occasional screams but remains muted throughout the performance. Accompanying him are four stacks of paper scattered around the site with a segregated script for the prologue of Square Enix's 2007
Final Fantasy Tactics: The War of the Lions
- which the screams are also borrowed from. Adopting elements of masculine identities, death and potentially violence, the presence of the work in The Church of St Mary & St Eanswythe unintentionally echoes with the church's Unknown Soldier.
Kelvin Atmadibrata
(b.1988, Jakarta, Indonesia) recruits superpowers awakened by puberty and adolescent fantasy. Equipped by shōnen characters, kōhai hierarchy and macho ero-kawaii, he often personifies power and strength into partially canon and fan fiction antiheroes to contest the masculine meta and erotica in Southeast Asia. He works primarily with performances, often accompanied by and translated into drawings, mixed media collages and objects compiled as installations. Approached as bricolages, Kelvin translates narratives and recreates personifications based on RPGs (Role-playing video games) theories and pop mythologies.
︎︎︎ www.kelvinatmadibrata.com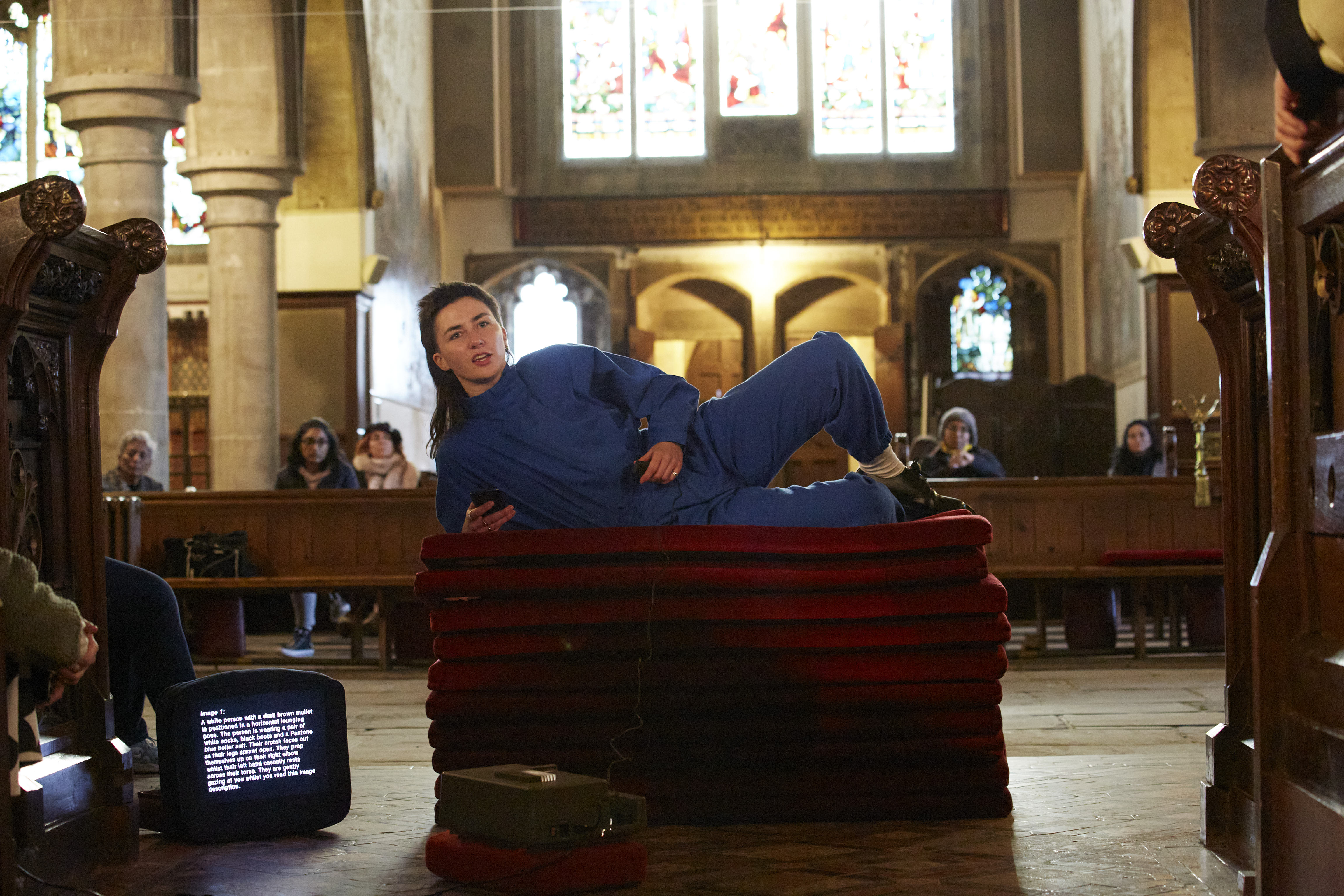 Léann Herlihy. Photos by Manuel Vason
Léann Herlihy is an artist and researcher based in Dublin. The methodological fulcrum of their practice pivots around academic studies in queer theory and feminist epistemologies which they utilise in tandem with live action, performance, video, sculpture and text. Pairing gestural action with in-depth research, their practice employs an emancipatory paradigm that actively destabilises gendered and sexualised dichotomies in an overtly heteronormative society.

Originally from Waterford, Léann Herlihy holds a MA in Gender Studies from University College Dublin and a BA in Sculpture, Performance and Spatial Awareness from the University of Arts Poznań, Poland. They were the artist-in-residence for Steak House Live Residency Programme, London [2020] and Assembly #2, Simiane-La-Rotonde, France [2019]. Solo exhibitions include the middle of nowhere, Project Arts Centre, Dublin [2022]; STUNTMAN, ]performance s p a c e[, London [2020]; Trojan Horse, STROBOSKOP Art Space, Warsaw [2019]. Select group exhibitions and festivals include Slow Sunday, Artsadmin, Toynbee Studios, London [2020]; Foreign Bodies, Zachęta National Gallery of Art, Warsaw [2019]; Biennale Warszawa, Mokotowska, Warsaw [2019]; ZABIH Performance Festival, Lviv, Ukraine [2019].
Léann Herlihy is currently supported by the Arts Council [Visual Arts Bursary 2021; Agility Award 2021] and Temple Bar Gallery + Studios [Project Studio 2021-2022].
︎︎︎
www.leannherlihy.com
It's 18:32

We're building something here for you and me
A platform to recline on

regal.

I'm looking at you
thinking that your recline is arresting

Could this be a love letter?
f**gt
, Madinah Farhannah Thompson writing on Léann's work
︎︎︎ read the full text
Monstera Deliciosa. Photos by Manuel Vason and Tristan Broers
"Hey there, Monstera here. Good on you for reading this! Since you're here, I thought you should know that (spoiler alert) the majestic photograph exhibited is by Andrea Abbatangelo and portrays the gorgeous friend and icon Keijaun Thomas as she graced the banks of the Warren right here in Folkestone. Today we're also taking contributions for her funding campaign for her upcoming gender affirming surgery: keep an eye out for the collection trays passed around during the performance or do approach us if you wish to make a donation otherwise. Happy to take your email address and send you a receipt of the donations transfered. Ah, to top it all of, you might also be hearing, seeing, sensating (traces of) works by ARCA, SOPHIE and Bence Magyarlaki - bring on this moment of trans and queer excellence and thank you for your soulful presence today!


My name is
Monstera Deliciosa
. I am no artist, but have inhabited spaces and practices that some would call artistic. A she-they kind of womxn, I live through the joys of insurrectionist trans-feminism, the perils of visibility and the paradoxes - physical and philosophical - that existing outside of the gender binary brings (hi dysphoria!). My performance endeavours try to articulate this all - be it through the minutia of applying lipstick while hanging from a 10 meter high balcony or the grandeur of a sticky breath imprinted against a gallery window front. Neither here nor there, but mostly all over, Monstera tries to unsettle what is perceived as spectacular. I derive pleasure in problematising voyeurism, castrating viewership while activating participation. She's usually not in it as a token for your diversity quota, so spare her from the tiresome limitations of the white-cube and pay me to pick up her one heel and wobble down the streets (or hills). Hope you still like her, if you hate me!"
︎︎︎
www.monsteradeliciosapresents.com
Watching Monstera sit at a church pew flipping through theory books - casually engaging with them, gripping and disregarding them - I am reminded of how the things I read stay with me, blend into my life or just pass through. In this context those theory books look heavy, but also comforting to think about the loud cacophony of thinking that is always going on, like a white noise.
Horizonless Hopes
, Sara Sassanelli writing on works by Sandra Johnston and Monstera Deliciosa
︎︎︎ read the full text