2022
Tiding
2022


Sandra Johnston + Lynn Lu + James Jordan Johnson + Kelvinatmadibrata + Monstera Deliciosa + Léann Herlhy
(original copy)
"
Tiding, meaning a communication, or an announcement, or to drift with, or as if with, the force of the waves.
Tiding
was a day of performance art taking place at two historic places of worship in Folkestone and Romney Marsh.
Tiding
was a celebration of the spring, the return of life after the retreats of winter and lockdown.
Tiding
also marked the last public programming ]performance s p a c e[ organised in Folkestone.
]ps[ has made a home for performance art and artists on Tontine Street since 2016. We have organised festivals, hosted residencies, curated exhibitions, and worked in collaboration with our peers and communities. Across this time, we have remained in dialogue with the remarkable landscape of the Kent coast, and so it is fitting that
Tiding
occured at both the Parish Church of St Mary and St Eanswythe in Folkestone, and St Augustine's at Snave, a remote church in Romney Marsh.
People have met to worship at St Mary and St Eanswythe since the 7th Century, and at Snave since the 13th Century. In inviting James, Kelvin, Léann, Lynn, Monstera, and Sandra to make works in dialgoue with these two old churches, we spoke about religion, and the histories of violence, exclusion and loss which these sites call in. At the same time, as we prepared the churches - negotiating space, sourcing materials, collecting dust - we thought about the spiritual funcitons of performance art - as a place for gathering, meditation, celebration and reflection. Thank you for joining us at
Tiding
."
TIDING, 2022. Videography and editing by Marco Beradi and Baiba Sprance.
Tiding
is curated by Benjamin Sebastian and Joseph Morgan Schofield, and produced by ]performance s p a c e[. The project is supported by Ash McNaughton and Marcin Gawin.
The project is funded by ]performance s p a c e [, Kent County Council, Creative Folkestone and Roger De Haan Charitable Trust, and Kent Wildlife Trust.
St Augustine at Snave
Day time session in Romney Marsh
Sandra Johnston + Lynn Lu + James Jordan Johnson
︎︎︎ About the Venue
(original copy)
"The day began with a vegan picnic at St Augustine in Snave, a 13th Century Church in Romney Marsh, where artists
Sandra Johnston
,
Lynn Lu
and
James Jordan Johnson
presented performances across the afternoon.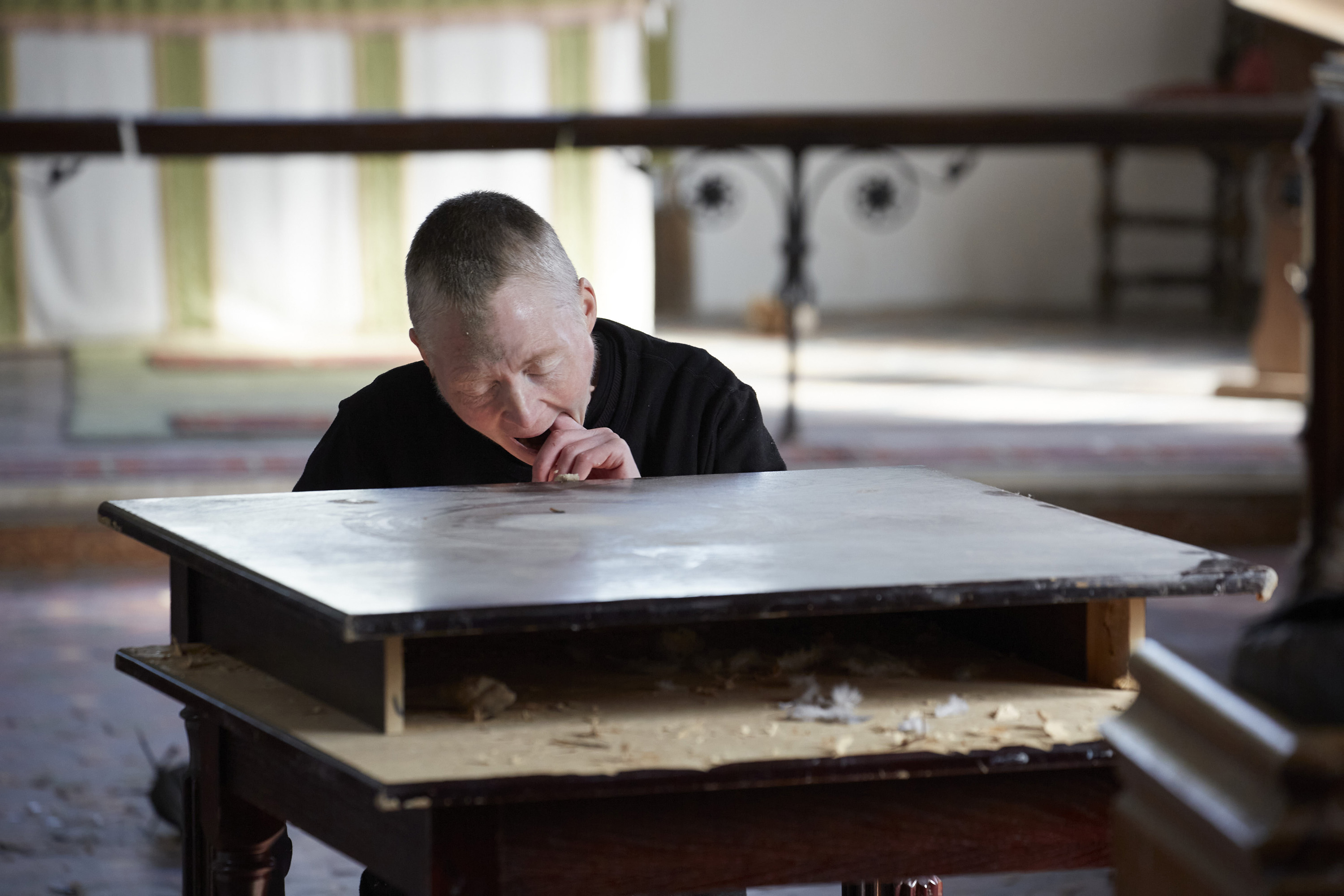 Sandra Johnston photographed by Tristan Broers.
"Witnessing Johnston's careful mastery of pace, decision-making and silent resistance makes me think of her embodied gestures as intimate knowledge she shares with the space, and the objects she is interacting with. A new constellation of relations and alliances emerges, reminding me of possibilities of porous solidarity through gesture, action and space. Watching her gestures becomes an exercise in trying to decipher the new constellations of relations in the room. Like trying to work out a mathematical equation that is closer to an exercise of the imagination, rather than a sum."
Horizonless Hopes, Sara Sassanelli writing on works by Sandra Johnston and Monstera Deliciosa
︎︎︎ read the full text
Likkle More: A Walk, A Plot(ting), A Land, James Jordan Johnson photographed by Manuel Vason.

"I chew.

Thinking of coconut husks
thinking on
these husks
Remnants
And those who were left behind

I chew."
and still I, Madinah Farhannah Thompson writing on Likkle More
︎︎︎ read the full text
"We Must return to the point from which we started. Diversion is not a useful plot unless it is nourishedby reversion: not a return to the longing for origins, to some immutable state of Being, but a return to thepoint of entanglement" – Glissant
Likkle More: A Walk, A Plot(ting), A Land
is a multi-site-specific performance. The work is a way to think about how a (raw) material and subject becomes an art object, what process must take place so that it becomes something it was not previously? How does a desire for singularity and removing a "point of entanglement" become a necessity for the knowledge system and culture that pertains to the art object?
The work, which uses the method of walking, video, public intervention and participation begins withinLondon pertaining to three distinct areas; Stratford, Lewisham & Deptford. The route breaks away from London, a departure followed by a destination of St Augustine's Church at Snave, Romney Marsh.
The Impossibility of Return, Lynn Lu photographed by Manuel Vason.
"held in crumpled newsprint,
i am led to an enclave at the side of the church overlooking the field - bright unfiltered light locks onto glittered greens, blissfully unaware of the phantasms that inhabit the broken cracks of these cherished objects.

(yet these are the fissures that open the space for you to come closer.)

The crack is a trace that haunts the fixed stares of absent ghosts: their spectres glow with crooked flattened halos, some dusted in gold, one dusted with brass.

(was this break too deep, too long, too much?)"
A Tiding from Lynn Lu, selina bonelli writing on The Impossibility of Return
︎︎︎ read the full text
"The past 2 years have left us collectively shattered. We don't stay broken, however, and as we put ourselves back together, this work proposes that we wear each of our distinct scars as a mark of beauty in the face of a chaotic universe."
You are invited to bring Lynn a cherished object that has been broken, and to engage in an intimate exchange. Your broken object – ideally ceramic or porcelain – might be in pieces, or simply chipped or cracked. Lynn's offering during
Tiding
will be a one-to-one exchange invol ving these items.
Over the next months, Lynn will resurrect these items using kintsugi*. Stanford research scientist Amy Price has described the practice of kintsugi as "radical empathy in action" (2021), representing resilience and the regaining of function with new splendour. Each restored object will be photographed then returned to their owners.
* Kintsugi is the Japanese art of repairing broken pottery by mending the breakage with lacquer dusted with precious metals.
"Aporisms of un (be)longing tug on the rope on the pew.

Scissors in hand:

open, closed, pointed
with legs uncrossed

you cut a whole in your knees:
a patellar viewing platform

capped to your joint,
on the edge of the scream: does it balance the care that your hands can't contain?

You look through shins that hold the marks left from praying too hard for the rain to stop:

the blow of silence, no. one. notices."
"Watching Monstera sit at a church pew flipping through theory books - casually engaging with them, gripping and disregarding them - I am reminded of how the things I read stay with me, blend into my life or just pass through. In this context those theory books look heavy, but also comforting to think about the loud cacophony of thinking that is always going on, like a white noise."