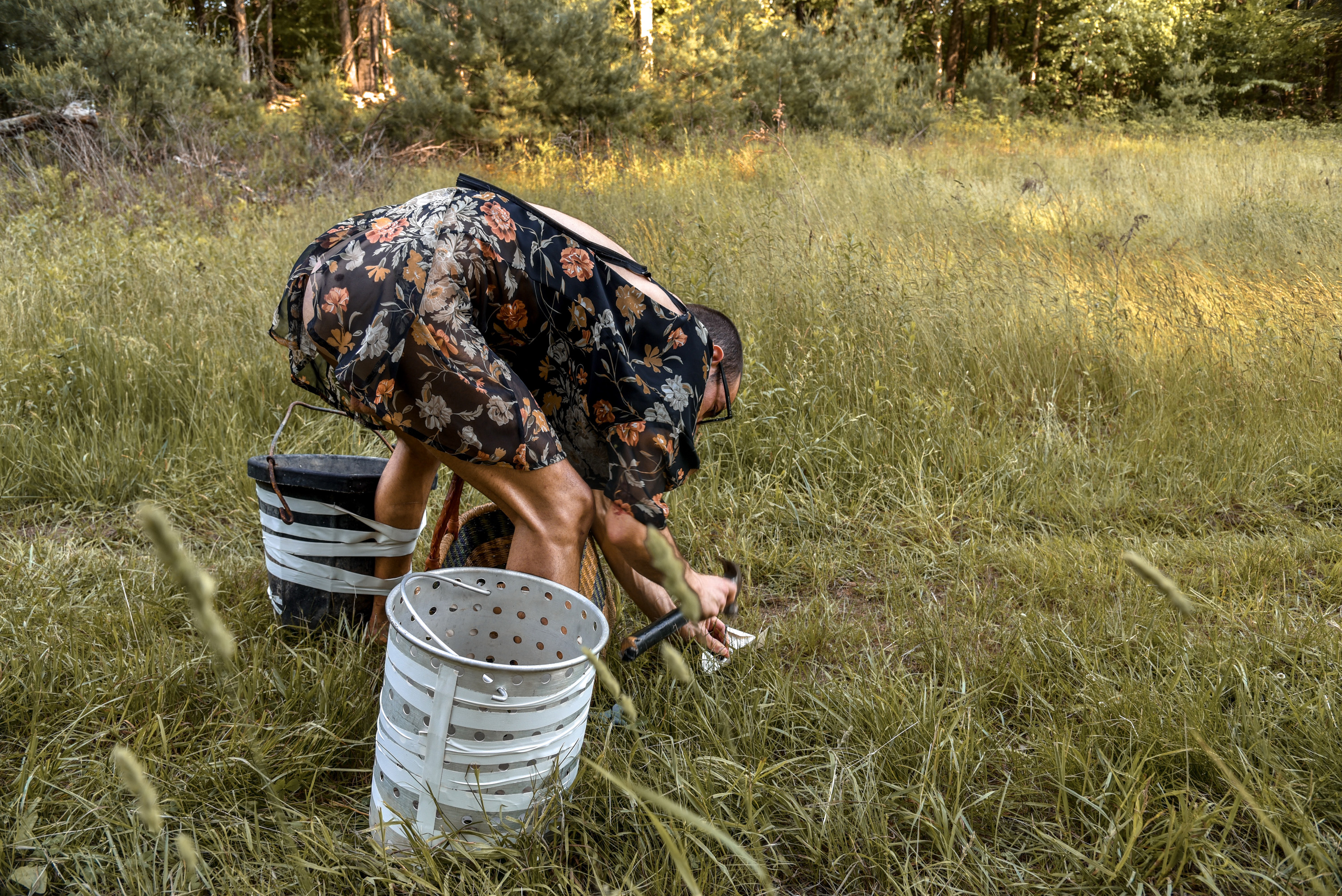 Monstera Deliciosa. Photograph by Jana Astanov.
Kelvin Atmadibrata,
Deepthroat
, 2017, Kolkata Performance Festival, Kolkata, IN. Photo by Fajar Kunting
Evening Session in Folkestone

The Church of St Mary & St Eanswythe
Tiding continued into the evening in Folkestone at the Church of St Mary & St Eanswythe, a site of worship since the 7th century, with more vegan food and a further three performances by Monstera Deliciosa, Léann Herlihy and Kelvin Atmadibrata.


Kelvin Atmadibrata. Photos by Manuel Vason
A Knight No More
is a site-responsive work involving a body performing a (silence-d) gesture of grass whistling. He seemingly answers a series of occasional screams but remains muted throughout the performance. Accompanying him are four stacks of paper scattered around the site with a segregated script for the prologue of Square Enix's 2007
Final Fantasy Tactics: The War of the Lions
- which the screams are also borrowed from. Adopting elements of masculine identities, death and potentially violence, the presence of the work in The Church of St Mary & St Eanswythe unintentionally echoes with the church's Unknown Soldier.
Kelvin Atmadibrata
(b.1988, Jakarta, Indonesia) recruits superpowers awakened by puberty and adolescent fantasy. Equipped by shōnen characters, kōhai hierarchy and macho ero-kawaii, he often personifies power and strength into partially canon and fan fiction antiheroes to contest the masculine meta and erotica in Southeast Asia. He works primarily with performances, often accompanied by and translated into drawings, mixed media collages and objects compiled as installations. Approached as bricolages, Kelvin translates narratives and recreates personifications based on RPGs (Role-playing video games) theories and pop mythologies.
︎︎︎ www.kelvinatmadibrata.com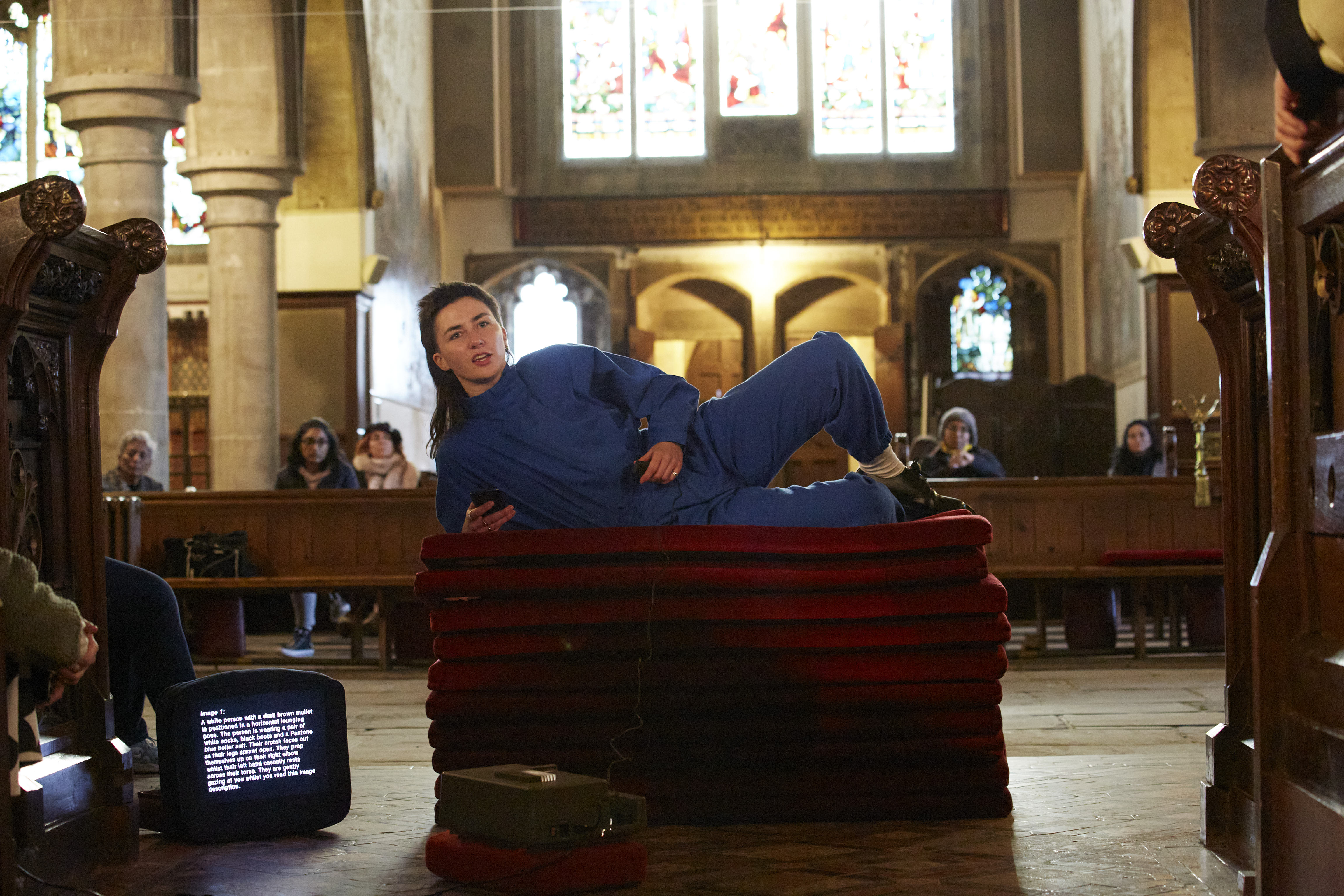 Léann Herlihy. Photos by Manuel Vason
Léann Herlihy is an artist and researcher based in Dublin. The methodological fulcrum of their practice pivots around academic studies in queer theory and feminist epistemologies which they utilise in tandem with live action, performance, video, sculpture and text. Pairing gestural action with in-depth research, their practice employs an emancipatory paradigm that actively destabilises gendered and sexualised dichotomies in an overtly heteronormative society.

Originally from Waterford, Léann Herlihy holds a MA in Gender Studies from University College Dublin and a BA in Sculpture, Performance and Spatial Awareness from the University of Arts Poznań, Poland. They were the artist-in-residence for Steak House Live Residency Programme, London [2020] and Assembly #2, Simiane-La-Rotonde, France [2019]. Solo exhibitions include the middle of nowhere, Project Arts Centre, Dublin [2022]; STUNTMAN, ]performance s p a c e[, London [2020]; Trojan Horse, STROBOSKOP Art Space, Warsaw [2019]. Select group exhibitions and festivals include Slow Sunday, Artsadmin, Toynbee Studios, London [2020]; Foreign Bodies, Zachęta National Gallery of Art, Warsaw [2019]; Biennale Warszawa, Mokotowska, Warsaw [2019]; ZABIH Performance Festival, Lviv, Ukraine [2019].
Léann Herlihy is currently supported by the Arts Council [Visual Arts Bursary 2021; Agility Award 2021] and Temple Bar Gallery + Studios [Project Studio 2021-2022].
︎︎︎
www.leannherlihy.com
It's 18:32

We're building something here for you and me
A platform to recline on

regal.

I'm looking at you
thinking that your recline is arresting

Could this be a love letter?
f**gt
, Madinah Farhannah Thompson writing on Léann's work
︎︎︎ read the full text
Monstera Deliciosa. Photos by Manuel Vason and Tristan Broers
"Hey there, Monstera here. Good on you for reading this! Since you're here, I thought you should know that (spoiler alert) the majestic photograph exhibited is by Andrea Abbatangelo and portrays the gorgeous friend and icon Keijaun Thomas as she graced the banks of the Warren right here in Folkestone. Today we're also taking contributions for her funding campaign for her upcoming gender affirming surgery: keep an eye out for the collection trays passed around during the performance or do approach us if you wish to make a donation otherwise. Happy to take your email address and send you a receipt of the donations transfered. Ah, to top it all of, you might also be hearing, seeing, sensating (traces of) works by ARCA, SOPHIE and Bence Magyarlaki - bring on this moment of trans and queer excellence and thank you for your soulful presence today!


My name is
Monstera Deliciosa
. I am no artist, but have inhabited spaces and practices that some would call artistic. A she-they kind of womxn, I live through the joys of insurrectionist trans-feminism, the perils of visibility and the paradoxes - physical and philosophical - that existing outside of the gender binary brings (hi dysphoria!). My performance endeavours try to articulate this all - be it through the minutia of applying lipstick while hanging from a 10 meter high balcony or the grandeur of a sticky breath imprinted against a gallery window front. Neither here nor there, but mostly all over, Monstera tries to unsettle what is perceived as spectacular. I derive pleasure in problematising voyeurism, castrating viewership while activating participation. She's usually not in it as a token for your diversity quota, so spare her from the tiresome limitations of the white-cube and pay me to pick up her one heel and wobble down the streets (or hills). Hope you still like her, if you hate me!"
︎︎︎
www.monsteradeliciosapresents.com
Watching Monstera sit at a church pew flipping through theory books - casually engaging with them, gripping and disregarding them - I am reminded of how the things I read stay with me, blend into my life or just pass through. In this context those theory books look heavy, but also comforting to think about the loud cacophony of thinking that is always going on, like a white noise.
Horizonless Hopes
, Sara Sassanelli writing on works by Sandra Johnston and Monstera Deliciosa
︎︎︎ read the full text