2019
2019
Sikarnt Skoolisariyaporn + Kajoli Ilojak + Vivian Chinasa Ezugh + Vaida Tamoševičiūtė + Ro Hardaker + selina bonelli + Alicia Radage + Ash McNaughton

(original copy)
"A one day festival of site specific performance art taking place on Saturday the 21st of September at various sites along Folkestone's harbour coastline. Invited artists will examine notions of reclamation, ecological sensitivity, damage control, value and care - within our current socio-political frame of late capitalism and environmental collapse. With contemporary performance art as its lens, Salvage Festival will explore what can, should and must be saved - what will end in wreckage - and how these processes will disproportionately affect minoritarian peoples and communities. Artists have not been given a materials budget and instead; have been asked to engage deeply with the site responsive, reclamation & ecologically sensitive conditions of the festival's invitation."
Salvage Festival. Photography by Manuel Vason & Andrea Abbatangelo.

Salvage Festival Documentation Montage. Video credit pending.
video credit pending.
video credit pending.
video credit pending.
video credit pending.
video credit pending.
video credit pending.
Vaida Tamoševičiūtė photogrphed by Andrea Abbatangelo.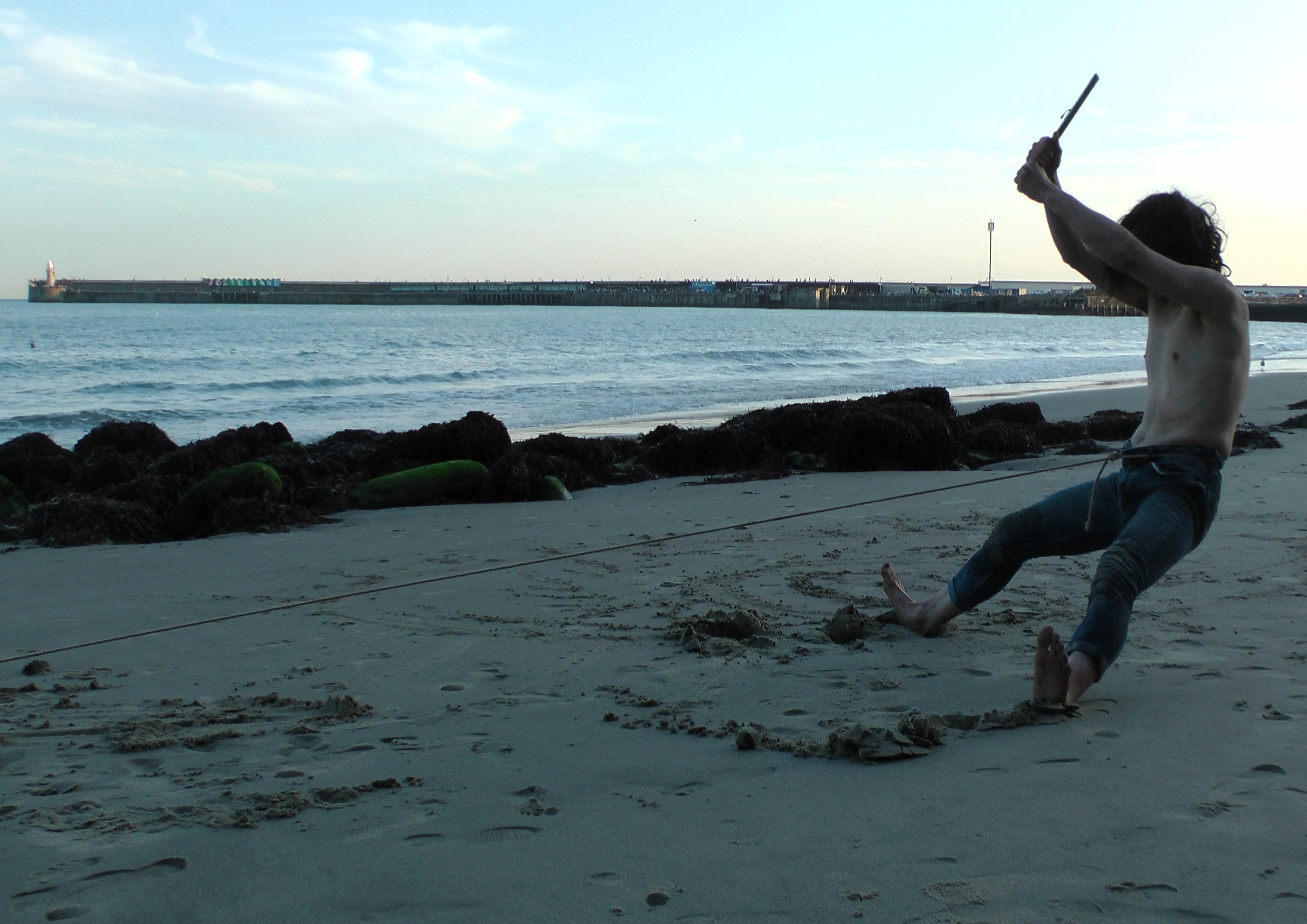 Ro Hardaker photogrphed by Andrea Abbatangelo and Manuel Vason.
2019
2019
selina bonelli
(original copy)
"(re)collecting (f)ears is a series of site-specific performances at fallen sound mirrors across the Kent coast. The project will culminate with a publication produced by Well Street Projects and an exhibition of photographic & film documentation, exhibited at ]performance s p a c e [ (Folkestone) and Well Street Projects (Margate). These sonic remains are physical manifestations of pre-war tensions and fears – initially built to provide defence, they are now succumbing to elemental erosive forces along the coasts of England. As relics of an early warning system that never came to fruition, their failure to serve their intended function could be seen to occupy the space of a fossilised mourning for a future that never came. This was also the time where we saw the rise of Fascism and far right ideologies that eventually became the dominant voice in Europe; a time not dissimilar to the one we are facing now. What would it look like to be accountable for our failures and carry them into the present, to discuss the eroded memories and fears that are scattered, forgotten and fallen across the south and north-eastern landscape of the UK? Could these visible fallen silenced concretions of fears and longing (for protection) help us open up the conversations around the cyclical and tidal nature of our histories and help us think about new ways of being and belonging that are built on difference and diversity? In her work Selina uses artefacts, unwanted hand me downs, worthless heirlooms that carry value through meaning, action and 'rememberings' (offered memories) and the language of performance to interrogate meaning, power and our collective social realities. Produced in partnership with ]performance s p a c e [, Whitstable Biennale and Well Projects, with support from Arts Council England National Lottery Project Grants."
2019
2019
Daniella Valz Gen
(original copy)
"(Be)longing is an embodied exploration of communion with the land through the process of embedding a body in the landscape. The work stems from ecological concerns that expand to urgent socio-political issues, and proposes reflections on the questions of:
Where does the migrant body belong? What does it mean to belong to more than one place? How do we forge our relationship to the land we occupy? And how do we forge belonging as an internal experience at every moment?
At the heart of the project exist three landscape interventions which took place at various locations across the UK in the Summer and Autumn of 2019 in locations outside of London (Postling; Kent, Fermyn Woods; Northamptonshire & The Warren; Kent) -generating decentralised and urgent discussions surrounding migration. The first iteration of (Be)longing was funded by Arts Council England and produced by
]performance s p a c e [.
The documentation of the interventions was done through 35mm slide film by Rowan Powell. These performative interventions became the genesis of further installation, text and performance; which were exhibited at CUSTOM in Folkestone, as part of
Something Held In The Mouth
curated by Madeline Hodge in October 2019."
image by Rowan Powell.
image by Rowan Powell.
image by Rowan Powell.