2012
Martin O'Brien

Regimes of Hardship: I, II & III
(Illness & the Enduring Body)
2012

(original copy)
"Martin O'Brien was Artist in Residence at ]performance s p a c e [ between January and June 2012. Martin used the residency period to realise the project Regimes of Hardship: Illness & The Enduring Body.

Regimes of Hardship was a practice as research project consisting of three performance installations taking place over a three month period at ]performance s p a c e [. In the year of the London Olympic Games O'Brien uses endurance in order to examine and challenge contemporary ideologies of health and illness and how this relates to the social construction of medicine and the body. The three installation-performances will examine the ways in which self-imposed endurance could act as a personal pathological resistance to illness. Regimes of Hardship attempts to communicate, interrogate and extend discourses around the body and medicine including areas such as pain and discipline within the medical regime, health and illness, the medical and art gaze and issues of embodiment."


Regimes of Hardship: I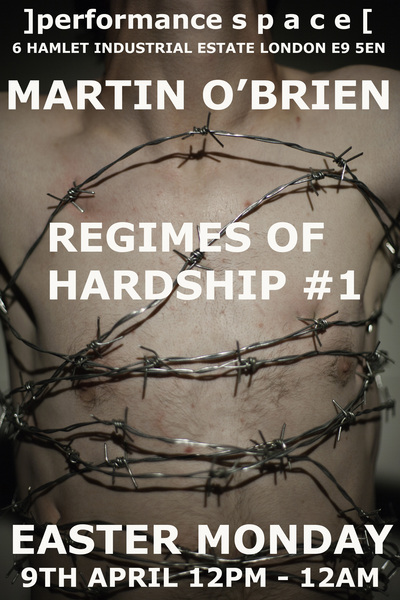 image credits pending.

Regimes of Hardship: II
image credits pending.
video credits pending.

Regimes of Hardship: III (Illness & the Enduring Body)
(original copy)
"To conclude his residency Martin curated a one-day symposium addressing issues surrounding Illness and the enduring body within performance. The Symposium consisted of 3 panels of speakers followed by a final open discussion. Contributors included artists & academics from performance, sociology and medical science. The symposium considered ways in which the body has been conceived and represented within both art and medicine. Offering various perspectives on the ways in which the medicalised body and bio-scientific practices have been appropriated within performance, physical endurance and pain within art and medicine, and ethics and the human body. The speakers addressed the limits of human corporeality and how artists have worked with their own biological matter, placing their bodies under duress, in order to communicate and in doing so have challenged contemporary ideologies around the body. Illness & The Enduring Body payed particular attention to the ways in which artists have engaged with issues around medicine, illness and the enduring body.
Panel 1:
Dr Gianna Bouchard (Principal lecturer in performance at Anglia Ruskin), Dr Sarah Wilson, Dani Ploeger (studio artist at ]performance s p a c e[ & Lecturer in Theatre and Digital Arts at Brunel University London)
Panel 2
(video recording above)
:
Lois Keidan (Director Live Art Development Agency), Sheree Rose, Ron Athey, Franko B
Panel 3:
Martin O'Brien & Dr. Karen Lowton (Medical sociologist senior lecturer King's College London), Rita Marcalo & Georgia Testa (Bio-Ethicist, University of Leeds), Michael Mayhew & Tuheen Huda"